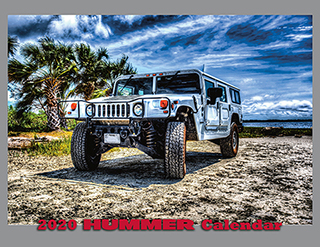 SOLD OUT!!
---
The GENUINE HUMMER CALENDAR! - Since 1997
23rd Annual Edition!
Featuring Hummer H1s and HMMWVs
Each month opens to 11" x 17"
Full Color
Very High Quality
Durable Binding
Limited Quantities!
Officially Licensed
NO price increase!
Only $18.95 $9.95 when shipped within the U.S.
FREE SHIPPING!
---
We support the United States Postal Service
---
Hummer Trademarks used with the written permission of General Motors Corp.
---
Read The History of The Hummer Calendar
See Hummer Calendars Around AM General
Guidelines for submitting photos for The Hummer Calendar
Some Back Issues are Available

---