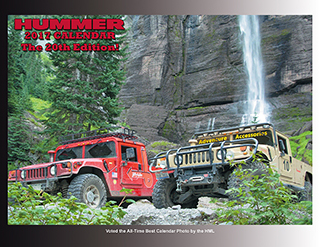 The 2017 Hummer Calendar, The 20th Edition!
Featuring great new photos plus classic photos from past editions.
NOW ON SALE!
Prices reduced while supplies last!
To order, choose your location below:
Usually ships same or next business day.
Also available at:
---
The ORIGINAL HUMMER H1/HMMWV Calendar! - Since 1997
20th Annual Edition!
Each month opens to 11" x 17"
Full Color
Very High-Quality
Durable Binding
Limited Quantities!
Officially Licensed
New Digital Process Enriches Color!
FREE SHIPPING!
NO price increase!
Only $18.95 $9.95 when shipped within the U.S.
---
We support the United States Postal Service
---
Hummer Trademarks used with the written permission of General Motors Corp.
---
Review the 2017 Hummer Calendar on our forum
Read The History of The Hummer Calendar
See Hummer Calendars Around AM General
Guidelines for submitting photos for The Hummer Calendar
Some Back Issues are Available

---