&nbsp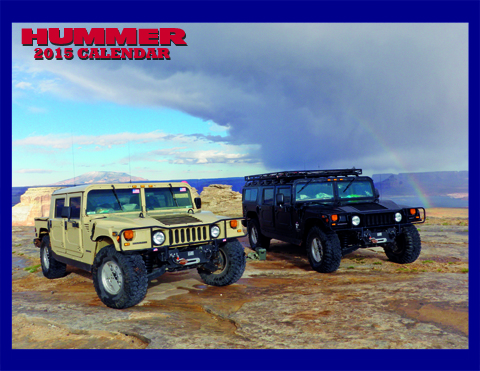 The Hummer Calendar for 2015
Back Issues
available while supplies last
To order, choose your location below:
Usually ships same or next business day.
---
The ORIGINAL HUMMER H1/HMMWV Calendar! - Since 1997
18th Annual Edition
Each month opens to 11" x 17"
Full Color
Very High-Quality
Durable Binding
Limited Quantities!
Officially Licensed
New Digital Process Enriches Color!
Only $18.95 with FREE shipping within the U.S.*
SURPRISES THIS YEAR!
The Hummer Calendar has always been produced on the theory that it's better to have too many good photos than too few. As a result, there are many great unused photos from past years. To celebrate the 18th edition, several of these photos have been pulled from the archives and used on the Calendar for the first time. They include:
MYSTERY PHOTOS!
Some photos from 2001 were discovered in the Calendar archives, but no information about them was found. It was unknown, at press time, who furnished these photos, where they were taken, or whose trucks are pictured. At that time, 35mm negatives were sent in which were taken to a photo lab for drum-scanning because digital cameras did not yet have sufficient resolution. The mystery photos came from 35mm negatives.
To find out if the mystery has been solved or to send any information you might have about them, plus more mystery photos, go to:
*For delivery outside the U.S., additional charges will apply
---
We support the United States Postal Service
---
Hummer Trademarks used with the written permission of General Motors Corp.
---
Read The History of The Hummer Calendar
See Hummer Calendars Around AM General

---